Located at the Southernmost part of Thailand, Koh Lipe is relatively an undiscovered paradise yet to be stumbled on and mesmerise yourself with the powdery white sand beaches composed of crystal clear calm turquoise blue waters while sipping on mojitos that aren't overly priced like they usually are, epic sunsets just as the way the sun rises and every other vibes a chill beach comes with! Now how do we get there? With these 4 options from Penang To Koh Lipe, there's no way to look past this ultimate gorgeousness with a small price tag for the weekend.
Throwing the option of flying out the window as the island doesn't have a terminal unless via Langkawi or Hat Yai, land or the sea are the ways to go.
Penang to Koh Lipe via Langkawi 
Langkawi is located in between Penang and Thailand thus one of the only ways to Koh Lipe from Penang is through Langkawi!  There are two location departures available; Kuah jetty or Telaga Harbor in Pantai Kok. Fact: Boats are usually operating during the peak season of the year so be sure to check your calendars before getting too excited to turn it up 🙂 With that, during the peak season from November to May,  there are high-speed ferry boats straight from Langkawi to Koh Lipe which is about 30km away taking up 1.5 hours of the day from one island to the other.
Whereas from Telaga harbor though seasonal (depending on the season), the ride is 90 mins long and nearer to the airport making this the easiest option for travelers hoping out from the flight and heading straight to the destination. Below is the list of time available for the boat rides from Telaga Harbor to Koh Lipe and vice versa.
Daily Ferry Trips
Langkawi → Koh Lipe
Departure Times
9:30 am (Malaysia Time)
2:30 pm (Malaysia Time)
Koh Lipe → Langkawi
Departure Times
10:30 am (Thai Time)
2:30 pm (Thai Time)
4:30 pm (Thai Time)
Penang to Koh Lipe via Hat Yai (Thailand)
During the off-season months, aqua transportation does not operate due to the monsoon weather in Langkawi. Now you might think what's the point of going to Koh Lipe then? For starters, fewer tourist visits hence ample of sports for you to choose from for that Golden kissed tan session and have a claim over the amazing view the island has to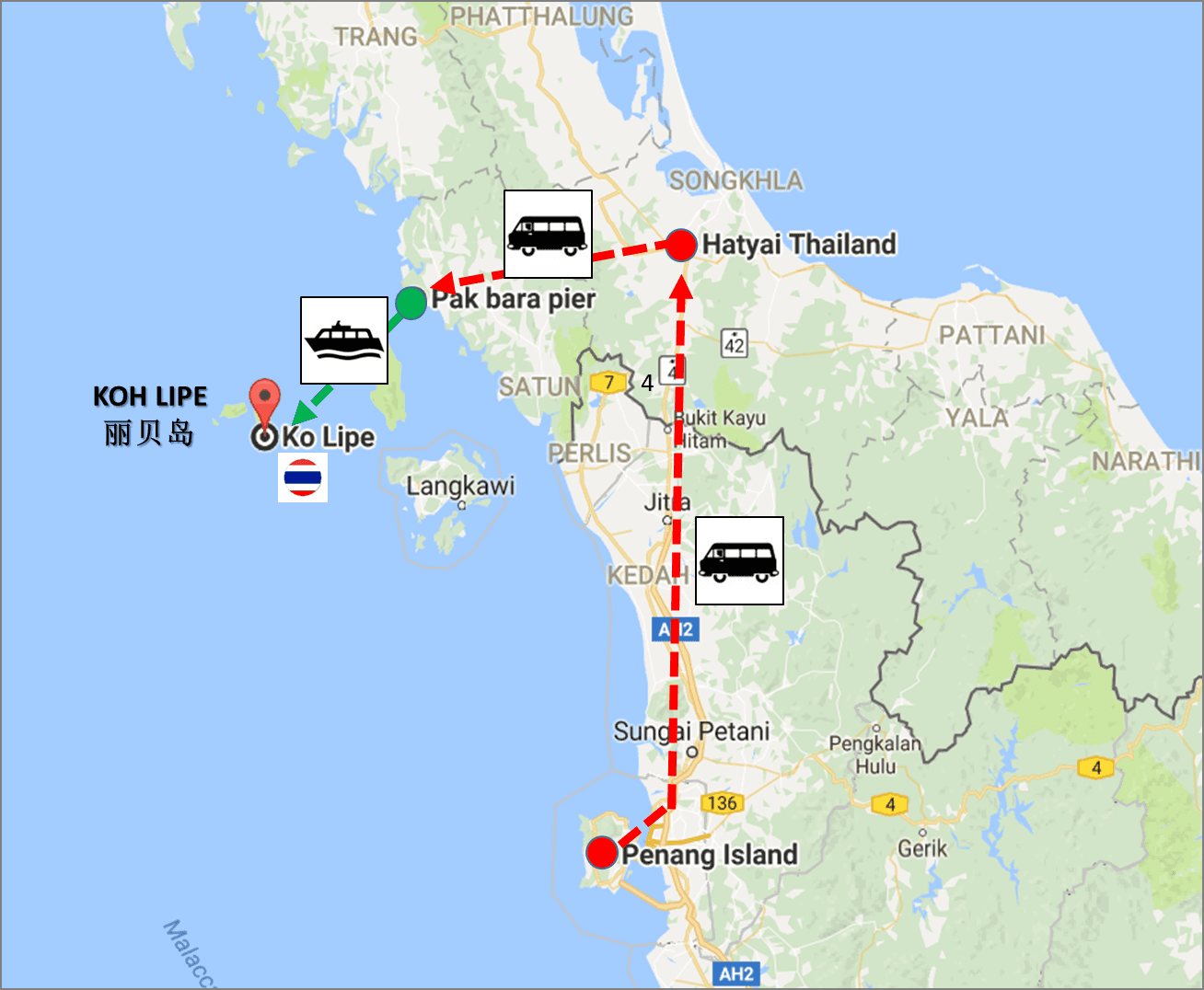 Pack your bags and head to Koh Lipe via Hat Yai through a flight. Air Asia is offering rates as rates as low as RM89 (one way) from Penang to Koh Lipe. Chop, chop let's get it going !!!!
Once there, a minibus or a van will take you to the Pak Bara port in Satun for 250 baht which then
will lead you to towards the end of destination by ferry (650baht): Koh Lipe!
Mildly on the disadvantage is the traveling process which takes 4 to 5 hours but for RM 130 or so, visiting a whole other paradise of an island is a too good of a bargain I'd say. For the thrill-seeking spontaneous minds, we'd suggest you experience the culture of Thailand through the busy roads, mind-blowing street food and the smiles of curious eyes.
And That's a wrap! We hope you take in our favorite paradise of an island under consideration for your next holiday because it is getting Lit as ever. Don't forget to comment here below your suggestion on the next holiday destination we should cover and get the wet season of the year in action!
For those who are interested to visit Langkawi as well, check out our guide from Penang to Langkawi and Top 10 things to do in Langkawi for more insights and tips!
We would like to invite you to join our New Private Community Group! Here you are free to ask questions, share your love for food, and explore the Penang community! We will also regularly post about casual promos and latest findings.