We live in an era where going to a public toilet cost us 0.50 cents and to think we get to travel around Penang for FREE? That's right people! For those who knew, yeah! For those who don't, Guys this is the best thing you'll hear your whole life. So what is CAT?  Central Area Transit (CAT) is a free shuttle bus that wanders around the streets of Georgetown starting from Weld Quay Bus Terminal and ends at the Downing Street, next to Fort Cornwallis.
Penang CAT Free Shuttle Bus
Launched in 2009 and goes by 'free shuttle', '5 Shuttle' or 'Free Hop-on CAT shuttle' with the original bus routes, this initiative by the State Government was to encourage the use of public transport and for the convenience of travellers. The service runs from 6:00 am in the morning until 12:00 am midnight and each bus frequency from Weld Quay Bus Terminal and other bus stops are within 15-20 minutes so there's no need to worry if you've missed the bus.   Now Let's utilize it to the fullest, shall we? Here's a guide for the adventure you can take through the shuttle bus consisting of 19 stops!
1st Stop: Pengkalan Weld 
@ Swettenham Pier & Chulia Street Pier
Marking the first stop of the CAT route, catch the sight of the Swettenham Pier which is the busiest port-of-call in Malaysia for cruise shipping so it's a lucky day if there's a ship lazing by port inches away from the clouds making this an amusing view up close.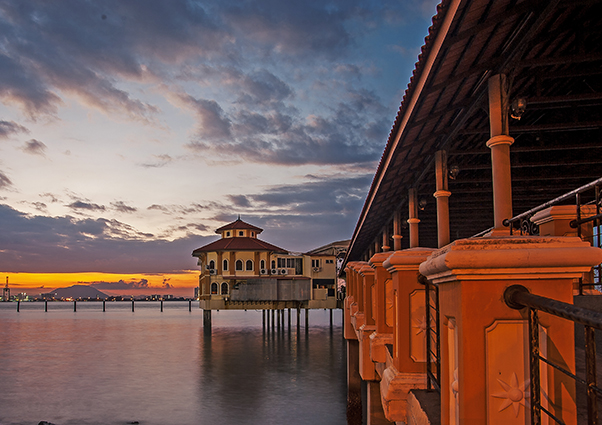 2nd stop: Ferry
@Wisma yeap Chor Yee,  Wisma Kastam, Pengkalan Raja Tun Uda
This one's a passing route to the next big stop. Get the camera ready for a quick shot of the beautiful historical building built during the  British colonization by the bare hands of the immigrants from South of India.
3rd stop: Litte India
Be swooned into the vibrancy of the Indian culture the minute the bus turns to little India. The ideal spot to hop off and explore the street rich with spices, god-blessed food, gorgeous sarees, locals who can't stop staring and some ghetto Indian beats blaring out of the speaker! The nearby attraction includes Penang Peranakan Museum, Chung Keng Kwee Ancestral Temple, Penang Heritage Trust and Old OCBC Building 1886 Building. 
4th stop: Immigration Office
Hands down, my favorite stretch in Penang. Pearly white at dawn and glistening against the orange sky at dusk, Lebuh Pantai also as Beach Street is one of the oldest streets in Penang flooded by the colonial architectural buildings preserved till date. Home to also one of the famous Nasi Lemak within the vicinity at Sri Weld Food Court.
See also: 10 Best Nasi Lemak in Penang You Must Try
5th stop: Bank Negara
Alongside Beach street, visit City Hall, Town Hall, Fort Cornwallis and War Memorial, hop off here. Or wait for the bus to complete its round till Station 17 where these attractions are situated nearby.
6th stop: Museums  @ Farquhar Street & Love Lane
Calling out the History Lovers, this is your stop to hop-off and visit the Penang State Museum that houses national and state treasures that include a collection of Baba Nyonya porcelain, furniture, jewelry, and costumes as well as eight oil paintings by Captain Robert Smith. Besides, Church of Assumption, Convent Light Street, Court Buildings, and St. Xavier's Institution within the sight for sightseeing.
7th Stop: Muntri street
Within the heritage zone of Georgetown, Muntri Street is line by century worth buildings refurbished yet preserved eclectic style double story houses. Hop off the bus and take a stroll by the St. Francis Church and maybe pay our ancestors a visit at the Christian cemetery nearby 🙂 Cheong Fatt Tze Mansion is worth a visit!
8th stop: Campbell street
For a quick salutation to god, stop by this street and visit the Benggali Mosque and step into the Chowrasta market (closer at station 12) for some good bargain therapy session.
9th stop: Komtar
If you're intending to explore the other side of Penang like Batu Ferringhi, Balik Pulau or Air Itam among others, hop off at the Komtar Bus terminal and look for the busses to these off-route journeys. For more info about the routes, visit Rapid Penang and see more of the island through pennies. Komtar currently serves as an administrative office and houses ICT Digital Mall for affordable gadget and technology goods. Should you prefer air conditioning and fast fashion buys, head over the 1st Avenue Mall or Prangin.
10th/11th stop: Kedah street
No stops are made on the 10th station as it's a part of Komtar, so head straight to Jalan Burma and pay the Asia Camera Museum a visit and explore more than 1000 camera mostly antique and we mean during the world war and such. They have an extensive collection of the German cameras, Leica and Zeiss.
12th stop: Chowrasta Market
Wanna be thoroughly in with the culture?  Visit Chowrasta Market at Penang road and immerse in nutmegs, tau Sar Peah  (Penang's famous bean paste pastry) and fresh pickles for the best deals and authentic taste. For the book, lovers look nowhere!!  Set yourself free upon the thousands upon thousands of books of anything and everything. If you happen to get hungry from all that reading,  Penang Famous Teo Chew Cendol awaits for your arrival alongside some mouth smacking bowl of laksa.
13th stop: East of Komtar
Nearing Komtar again so hop-off for a quick stroll in Prangin Mall or 1st Avenue for a movie. The nearby attraction includes Masjid Pintal Tali.
14th stop: Carnavon street
As a kid, hearing the street 'Carnavon' is like a trip to Toys R Us but more towards shops selling bulks of Paints, Drawing Blocks, Colour pencils, oh boy the JOY!!! Located at the street also is the Penang Islamic displaying a thorough exhibition of the history of Islam in Malaysia through a number of 19th-century antiques and a full-sized diorama of a dock scene.
15th stop: Street of Harmony
Time to get down the bus and explore this stop that is the home to Acheen Street Mosque, Masjid Kapitan Keling, Yap Kongsi, Khoo Kongsi, Cheah Kongsi and Lim Kongsi, collectively known as 'Street of Harmony'. Though slightly overrated yet not too bad for a decent dinner is the Nasi Kandar Beratur along the way holding a line that is far too long for the faints of heart.
See also: Street of Harmony | Famous Attractions in George Town
16th stop: Court
This stop is the continuation to the Street of Harmony as it stops in front of the famous Anglican church, St.George Chruch Kuan Yin Teng and Mahamariamman Temple which are usually flooded by deities and the aroma of incense sticks breezing through the wind.
17th stop: Dewan Sri Pinang
Dewan Sri Pinang holds some pretty cool exhibitions at times. Be sure to stop by and check out if there's anything that may interest the mood!   You can also catch up on earlier attractions (reachable from Station 6) such as City Hall, Town Hall, Court Buildings, War Memorial and Logan Memorial.
18th stop: Fort Cornwallis
Step back in time and walk through the Fort Cornwallis, the largest standing fort in Malaysia. It is a surreal experience to hear the 1812 Overture playing over the speaker system while a Malaysian man dressed in full British regalia stands at the gate. Catch Queen Victoria's Memorial Clock Tower at sunset. Worth every single time!
19th stop: Lebuh Downing
AND THE FINAL STOP is the downing street connected to beach street before the bus heads back to the Weld Quay Bus Terminal.
For bus arrival time, kindly contact Rapid Penang ICIS Centre at 04-238 1313. Arrival time is subjected to traffic and weather conditions. It's free, therefore, less of whining, more on letting loose and allow the road to lead the way. Have the best time 🙂 Cheers!
Foodies, before you leave, come and join our New Private Community Group! Feel free to ask questions, share your love for food, and explore the Penang community! We will also regularly post about casual promos and latest findings. Click on the image below and hunt good food with us today!