On our humble little island, there's no short supply of hotels that will make you feel right at home. Conveniently located in the heart of the city, these hotels are just a quick walk, a grab ride or a shuttle away from the city's best attractions. From quirky boutique rooms in cultural enclaves to luxury villas by the beach, these are the best addresses to rest your head at.
10 Penang Hotels For Your Next Staycation
Whether you're visiting from out of town or looking to do a quick staycation, these are the ones to pick for luxury, heritage history and just about everything you would need. LEGGO!
1. Eastern & Oriental Hotel
Price Range: RM644 to RM 938
In many ways, it has also come to represent Penang itself; its story inextricably is woven into the island's history, its traditions an indelible part of many a traveler's treasured memory, its name synonymous with the magical island once known as The Pearl Of the Orient.
Opened in 1885, this refined hotel with an annex is a 13-minute walk from Fort Cornwallis and 4 km from Gurney Plaza shopping mall. The elegant suites come with living areas and free Wi-Fi. Upgraded suites add balconies or garden terraces. Some suites have Andaman Sea views, kitchenettes and/or dining lounges with bars. Butler service is available. Free perks include a breakfast buffet and parking. There are 5 dining options (2 serve international cuisine; 1 has a bar) and an old-fashioned bar. The hotel features an infinity pool, a spa offering Thai massage, and a 24/7 gym with a sauna and a steam room. Yoga sessions are on offer.
It is 700 m to Penang State Museum and Art Gallery and 850 m to Penang 2D Trick Art Museum, while Fort Cornwallis is 1.2 km away. It is 20 km from Penang International Airport.
Address: 
10, Lebuh Farquhar, George Town, 10200 George Town, Pulau Pinang
2. Hard Rock Hotel in Penang
Price Range: RM473 to RM583
Ask any locals around, and Hard Rock Hotel would be the hip place to head to on special occasions! This music-themed, high-end resort overlooks the famous beach of Batu Ferringhi. It's 16 km from the island's capital, George Town.
Plush rooms with a rock star–themed decor feature free Wi-Fi, flat-screen TVs and iPod docks, as well as mini fridges, and tea and coffeemakers. Some offer sea views and/or terraces, and others provide swim-up pool access. Family rooms include PlayStations and extra beds, and suites add living areas, some with sofa beds. Perfect for the family vacation to occupy the kids while parents sip on whatever they like with their favourite company!
Address: 
Jalan Batu Ferringhi, 11100 George Town, Pulau Pinang
3. Bayview Beach Resort
Price Range: RM272 to RM452 
At Bayview Beach Resort Penang, a tropical garden filled with slender palms is all that separates you from the long stretch of enticing white sand at Batu Ferringhi beach. This contemporary hotel with landscaped gardens is 13 km from Gurney Drive seafront promenade and 15 km from Penang Botanic Gardens.
Featuring city views, the straightforward rooms and suites come with complimentary Wi-Fi, minibars, tea and coffeemaking facilities, and satellite TV. There's room service. Freebies include parking and breakfast, served in a low-key cafe. Other amenities include a lobby bar, laundry facilities and a terrace with dining. There's an exercise room, a sauna and an outdoor rooftop pool.
Perfect for the travellers intending to indulge in water sports or sun kiss all day long!
Address: 
Feringgi Plaza, Jalan Batu Ferringhi, Batu Ferringhi, 11100 Batu Ferringhi, Pulau Pinang
4. Bayview Hotel Georgetown Penang
Featuring a revolving restaurant with 360-degree views of Penang Island, Bayview offers elegant rooms with flat-screen TVs in Georgetown's commercial centre. It has an outdoor pool, spa pool and fitness facilities.
A 1-minute walk from the Malacca Strait, this upscale, tower-style hotel is a 16-minute walk from the mall and the observation deck at Komtar Penang.
Address: 
25-A, Lebuh Farquhar, George Town, 10200 George Town, Pulau Pinang
5. Sunway Hotel Georgetown Penang
Price Range: RM336 to RM446
A 3-minute walk from the shops of Penang Times Square, this sophisticated hotel in the city center is also an 8-minute walk from the Komtar complex and 3 km from Fort Cornwallis.
Experience the Suites and Club rooms and exclusive privileges on the club floor with a private lounge serving breakfast, hi-tea and evening drinks and canapés and complimentary usage of our meeting room where you can complete that all-important business presentation.
There are a casual, all-day restaurant and a 24-hour gym, plus a rooftop pool with skyline views. Parking is complimentary.
Address: 
33, Lorong Baru, George Town, 10400 George Town, Pulau Pinang
6. Holiday Inn Resort Penang
Price Range: RM347 to RM 493
Offering beachfront accommodation along the white sands of Batu Ferringhi, and 9 km from Taman Negara Pulau Pinang national park and tours at the Tropical Spice Garden. Holiday Inn Penang features an outdoor pool and a variety of water sports. They welcome you from the Lobby Lounge that overlooks the swimming pool. It provides free WiFi, parking, and fitness facilities. Some rooms have sea views. Suites add separate lounge areas and private balconies, while kids' suites feature bunk beds and PlayStations. Room service is offered 24/7.
Address: 
72, Jalan Batu Ferringhi, 11100 Penang, Pulau Pinang
7. Hotel Jen Penang
Price Range: RM 340 to RM 409 
Hotel Jen Penang, located centrally in the heart of Penang's vibrant and bustling George Town, close to the UNESCO World Heritage Site, as well as prime commercial, business, and shopping areas.  This laid-back hotel is a minute's stroll from the nearest bus stop, a 6-minute walk from the landmark Komtar Tower and 4 km from the food stalls on Gurney Drive. The hotel's design features cater to business and leisure travelers alike. Enjoy fuss-free simple pleasures – fast and free WiFi, scheduled shuttle service to the beach, 24-hour gym, and much more.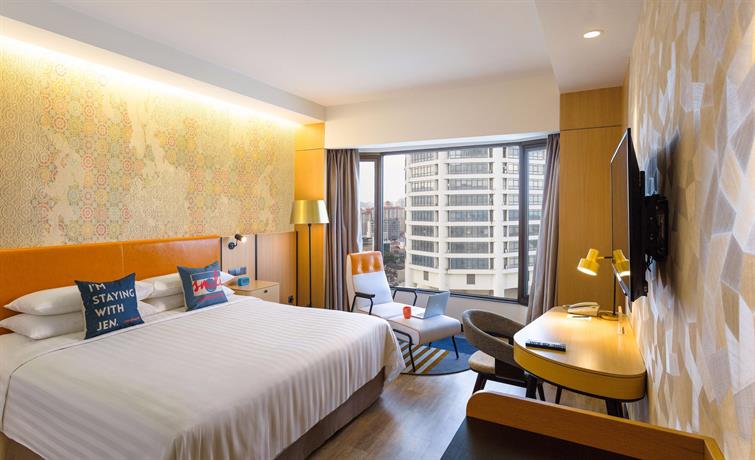 Address: 
Jalan Magazine, 10300 George Town, Pulau Pinang
8. Lone Pine Hotel
Price Range: RM 409 to RM 605 
History: The history of the Lone Pine Hotel goes back to 1948 when a bungalow along Batu Ferringhi Beach was turned into a family-run hotel with just 10 rooms, all of which stand to date. The owner, an Australian, Dr Albert S. McKern mistook the solitary casuarina tree he saw there as a pine tree and dubbed the property 'Lone Pine'
Tucked away in an idyllic spot along Penang's coastline, Lone Pine is Batu Ferringhi's only luxury Boutique hotel. Penang's favorite beachside boutique resort infused with the colonial spirit and idyllic charm that has made it one of Penang's legendary hotels. . It features an outdoor swimming pool and fitted with hammocks.
The refined rooms are decorated with stylish, colorful furnishings, and offer free Wi-Fi, flat-screen TVs, and private patios or balconies. Rooms with balconies feature private plunge pools. Many have sea views. Suites add separate living areas; 1 offers 2 bedrooms and a kitchenette
Address: 
97, Jalan Batu Ferringhi, 11100 Batu Ferringhi, Pulau Pinang
9. Shangri La's Rasa Sayang Resort & Spa
Price Range: RM 900 to RM 1003
Rooms at Shangri-La Rasa Sayang have views of the sea or hills of Penang. They are spacious and decorated with wooden carvings and colorful fabrics. Private bathtubs and free internet are provided for guest's comfort.Whether on the beach or by the pool, a refreshing cocktail, cooling drink or light snack is never far away. In the evenings, join your fellow guests at the lively Feringgi Bar.
Shangri-La's Rasa Sayang Resort & Spa brings world-class, award-winning dining to the shores of Batu Feringgi. The Feringgi Grill, a contemporary Western-style restaurant in the Rasa Wing, makes the most of its beachside location and offers a range of delectable cuisines.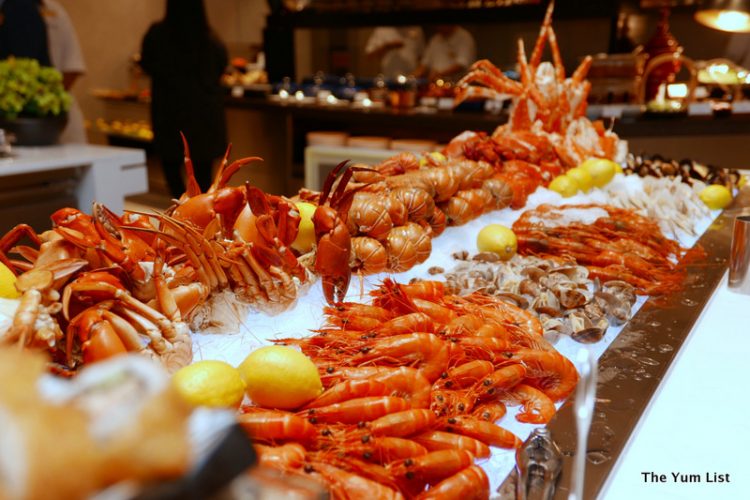 Address: 
Batu Feringgi Main Road, Jalan Batu Feringgi, 11100 Batu Feringgi, Pulau Pinang
10. PARKROYAL Penang Resort
Price Range: RM 490 to RM 633
Surrounded by the lush greenery in Batu Ferringhi beach or "Foreigner's Rock," PARKROYAL Penang Resort is an idyllic retreat offering delightful hospitality as warm as the tropical sun.
In tropical gardens on Batu Ferringhi Beach, this upscale resort is 9 km from Penang Butterfly Farm and 12 km from the lively Gurney Drive promenade. Rooms at PARKROYAL Penang are decorated in a modern Asian style. Offering air conditioning and a marble bathroom, they come with a satellite TV, in-room movies and tea/coffee maker.
Address: 
Batu Ferringhi Beach, 11100 Batu Ferringhi, Pulau Pinang
Alright we have come to the end of today's blog. Before you leave, come join our New Private Community Group! Feel free to ask questions, share your love for food, and explore the Penang community! We will also regularly post about casual promos and latest findings. Click on the image below and hunt good food with us today!