What to eat in Hat Yai? In today's blog, we're going to tell you some of the must-try food in this city.
To eat on the street is to engage all five senses. There are the taste and texture of the food; the smell of it (and probably diesel and charcoal); the sound of beeping horns and meat sizzling on the grill; and the sight of elbow-to-elbow crowds and bumper-to-bumper traffic. At once, street food is the ultimate in casual dining and an ultra-sensory window into the culinary heritage of a hungry metropolis.
If you love Bangkok food, check out this website.

15 Best Hat Yai Street Food You Should Try
There's a saying in the streets of magical gastronomy "Where there are people, there will be food". Google says World Best Street Food would be Asia. If you look closer, there's Thailand.Period. Here's an insight to top 15 Street Food you should try when you find yourself among them.
1. Thai Boat Noodle #Doy Kuay Teow Reua
All good things come in a small package. Thai boat noodle is a fine example of this as they're in a bite-sized portion because back in the days, boat noodles were sold in a boat and as the result of a shaky boat, a small bowl was a less messy way to serve the customers. And the true way to have em is by having more than one.
What's in : Slices of pork, a pork ball, bean sprouts, Kang kong, and garnished with a sprinkle of spring onions and coriander. While the noodles come in both soup and dry options, the latter drizzled with a sweet dark sauce and served with ground peanuts.
Heads up: The broths are usually thickened using pork or cow's blood, so be sure to ask before anything. Literally the only rule in the streets of Thailand.
Where to find:
Chen Long Boat Noodle
Address: 167 ถนน แสงจันทร์ ตำบล หาดใหญ่ Hat Yai District, Songkhla 90110, Thailand
Phone: +66 86 507 0213
Opening Hours: 7.30am to 3.30pm daily
May Boat Noodle
2. Pad Thai Noodles
Also representing the country as its national dish, this one right here is one of the reasons why travelers travel. Seek, Experience & Indulge. The instantly-recognizable, fragrant blend of freshly fried noodles, tamarind, garlic, chili, peanuts and sometimes veg is, for many of us, the ideal introduction into Thai cuisine.
What's inside: Soaked dried rice noodles, which are stir-fried with eggs and chopped firm tofu, and is flavored with tamarind pulp, fish sauce, dried shrimp, garlic or shallots, red chili pepper and palm sugar and served with lime wedges and often chopped roasted peanuts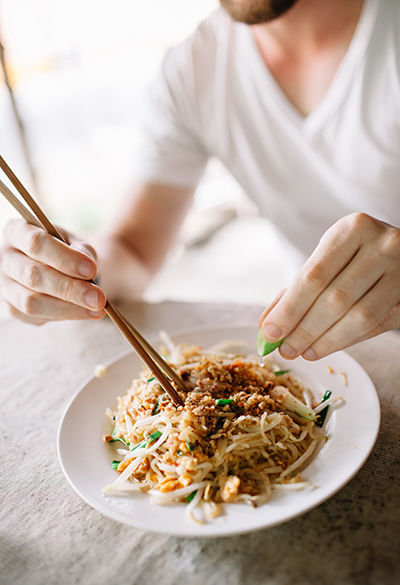 Where to find:
Greenway Night Market
เจ๊เล็ก ร้านอาหารไทย (สาย2) Jae Lek
Landmark: Cockpit SV Autotire ( A cafe bear the immigration)
3.  Thai Grilled Pork Skewers #Moo Ping
Moo Ping can be found in every market and on every street corner in Thailand. These quick, cheap snacks are packed full of flavor and super easy to prepare. They cook quickly, so they're perfect for a barbecue where you've got a lot of hungry mouths to feed.
What is it: Skewers of marinated grilled pork. Involves a mix of garlic, soy sauce, and sugar, creating a flavor that's pleasantly sweet and savory.
Where to find:
Asean Night Bazaar : thonon Chotevittayakul 5, Tambon Hat Yai, Amphoe Hat Yai, Chang Wat Songkhla 90110, Thailand
Hat Ya Walking street :

 

45 Thumnoonvithi Rd, Tambon Hat Yai, Amphoe Hat Yai, Chang Wat Songkhla 90110, Thailand
4. Mango Sticky Rice #Khao Neeo Mamuang
if not the most popular Thai desserts and it is also one of many favorites! Although mangos seem to be available in Thailand all year round, they are at their very best between April-June. The mango flesh should be bright, yellow and juicy.
What is it: Made of steamed glutinous sticky rice, served with fragrant tender sweet slices of mango. Drenched and seasoned with salty-sweet coconut milk cream will make an addict out of you.
Where to eat:
Story goes that people used to queue up here long before the craze for sticky rice and mango. Their beautifully shiny sticky rice (B150 for a kg) manages to be fatty and creamy without being soggy or overly sweet.
Address: 116/1 Supasarnrangsan Rd, Tambon Hat Yai, Amphoe Hat Yai, Chang Wat Songkhla 90110, Thailand
5. Thai Salad #Som Tam
It's just intense. Best paired with fried chicken and rice!
What is it: shredded green papaya, tomatoes, carrots, peanuts, dried shrimp string beans, sugar, garlic, fish sauce, lime juice, and plenty of chilies. The ingredients are mixed together using a mortar and pestle, which blends the flavors beautifully resulting in a throat spicy yet unstoppable dish.
Where to eat :
Somtam Chaba: Address: 234/4, Soi 4, Supasanrangsan Road, Hatyai, Songkhla, 90110, Thailand
Business Hours: 10 am to 10 pm.
Closed on Tuesdays.
Contact Number: +66 074- 225 315
6. Beef Ball Noodle Soup #Kuai Tiao Neua
Similar to Pho, yet uniquely authentic to its motherland, This soup is an iconic part of Thai street food and culture offering an almost infinite variety of different styles and flavors that blend influences from throughout Asia.
Whats inside: The dish is usually accompanied by basil, lime, chili, and other extras on the side so that eaters can season the soup to their own taste. The balanced tastes of sweet, salty, spicy, and citrus are highly contagious
Where to eat:
Thanadsri Hat Yai
If you're looking for the best beef ball noodles soup, visit Thanatsri Hat Yai for breakfast. The eatery's wall is covered with photographs of celebrities who have visited the restaurant, including the ex-PM of Thailand.

Address: 

68 ถนนธรรมนุญวิถี หาดใหญ่ Songkhla 90110, Thailand

Near BP Grand Tower Hotel (Using the oldest traditional method)
7. Thai Grilled Chicken #Gai Yang
What is it: Thai-style grilled chicken is one of the tastiest Thai street foods you'll never get enough of. Coated in a marinade flavored with cilantro, white pepper, garlic and fish sauce, the grilled chicken is the chicken you never say no to. Best way to eat this is straight off the coals of a street vendor's BBQ.
Grilled chicken is especially common to eat along with som tam (green papaya salad), and hot fresh sticky rice. With this trio combination, you'll have an award-winning meal that will make your taste buds rejoice!
8. Pad Kra Pao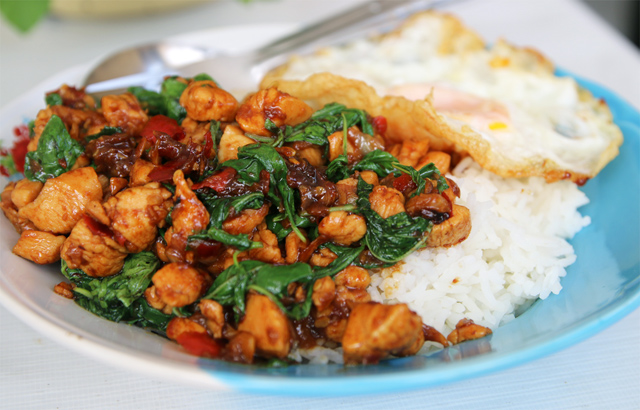 What is it: Pad kra pao consists of minced pork or chicken stir-fried with Thai basil and chilies, all served over white rice. It's definitely not a dish for picky eaters: The Thai basil has a very sharp, peppery flavor, while the chilies add a hefty dose of spice. You can always take the heat down a notch by asking the vendor to make it a little spicy. Including pieces of chicken and a fried egg, this dish will guide you into making it through the bustling crowd.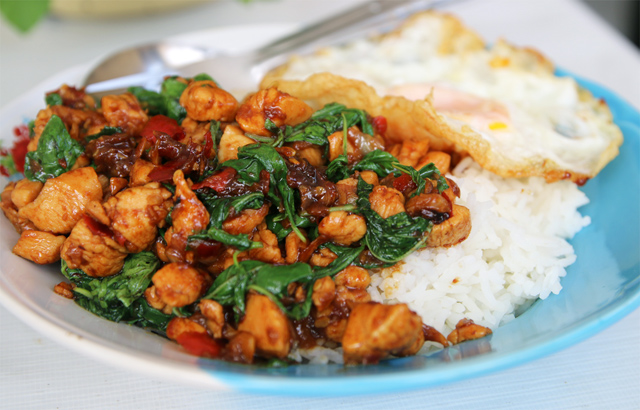 Where to eat
The Fish Kitchen: 115/24, Klong Toei-Klong Plae Road | Kho Hong, Hat Yai 90110, Thailand
Bon Khao Restaurant : 1/9 Kanjanavanich Road, Hat Yai, Songkhla 90110, Thailand
Facebook page: Bon Khao Restaurant
9. Fried food
Be it Fried Chicken for the Americanos or Fried Wan Tan for the Malaysians, fried food is the ultimate bae we hate yet unresistible. And Abundantly scattered across the streets and lanes in Thailand would be fried food. Thais are very inventive with their frying and it seems that they will fry just about anything: seafood of all kinds (shrimp, fish, squid), meats (pork in many forms, duck, chicken), kanom (bananas, bread, dumplings), appetizers (shrimp and fish cakes) and even leafy vegetables (such as holy basil – bai kaprao).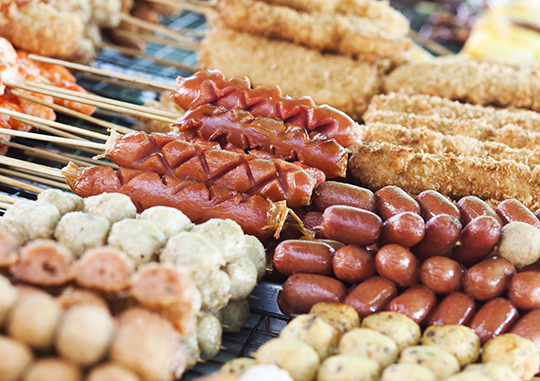 Where to get em beauty
Halal Street Food Market:

 

Karnjanavanit, Tambon Khao Rup Chang, Amphoe Mueang Songkhla, Chang Wat Songkhla 90000, Thailand
10.  Joke
If there's one food that immediately pops into my mind as a Thai breakfast dish, it's the thick rice congee porridge known as joke. Joke is very similar to the Chinese style of congee, rice boiled until it dissolves, and forms a thick porridge that's almost the consistency of instant oatmeal.
What's with it: It is served piping hot, usually with an egg cracked in the middle, some pieces of minced pork made into meatballs, sometimes a few pieces of liver, and finally garnished with thin slices of ginger and cilantro. When I eat joke (โจ๊ก), I like to then load it up with black pepper and squirt in a few drops of sauce Maggi.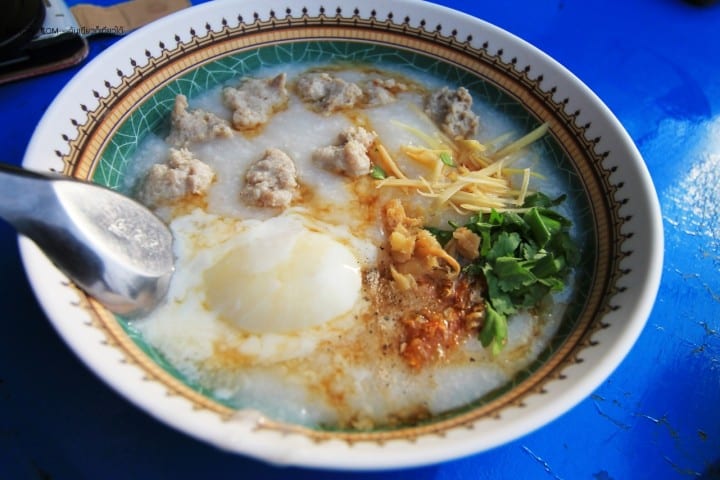 Where: Tanrattanakorn Road, Hat Yai, Thailand.
11. Thai Wonton Noodle #Ba Mee @ หนานหยวน บะหมี่เกี๊ยวกุ้ง
Pretty much a find in Malaysia as well, Wanton Noodles are a hit in Ht Yai especially at this little joint called Nan Yuan. The wonton noodle (also known as Mi Kiao in Thai) here is one of the best available in Hat Yai and the closest to what one can get in Malaysia and Singapore. The dishes here are priced between 35-50฿. One knows it's good when it's popular among the locals than tourists.
 What's inside: Wonton Noodles are usually egg noodles tossed in a sauce, topped with Char Siu (Bbq pork), wontons, choy sum and pickled green chilies. I should emphasize that the pickled green chilies are as essential to this dish as are the rest of the ingredients to achieve that authentic balance.
Address: 
Tanrattanakorn Rd, Tambon Hat Yai, Amphoe Hat Yai, Chang Wat Songkhla 90110, Thailand
12. Sweet Drumstick  Pineapple
13. Chokdee Dim Sum
Just mention Chokdee Dim Sum to any tuk-tuk driver and he'll know the place for sure. Chok Dee Dimsum is probably the most famous dim sum shop in Hatyai and is always packed with people. Each dim sum basket starts from THB 20. They will steam the dim sum upon order. In addition, Chokdee also serves pork ribs soup (bak kut teh). Their version is similar to the herbal bak kut teh you can find in Malaysia.
Address: 
58 25 ซอย ละม้ายสงเคราะห์ 1 ตำบล หาดใหญ่ Hat Yai District, Songkhla 90110, Thailand
14. Nutella Roti
Roti canai and its variations were available in at least one stall per street – roti pisang (roti with banana), roti jagung (roti with corn), roti telur (roti with fried egg) and a lot more. To top it up, you could choose a plain crispy roti with milo, Nutella or chocolate erm HELLO ??? Need we say more?
15. Banana Fritters  #Kluay Tod
Basically pisang goreng for the Malaysians. An addictively sweet snack or dessert, kluay tod is deep fried mini-bananas. The dish is usually made with less ripe bananas, which are more suitable for deep frying. The bananas are typically prepared in a batter of desiccated coconut and sesame seeds. The result is a slightly crunchy and golden outside, and a creamy and warm center. They're excellent freshly fried, or even after they cool off to room temperature.
Alright we have come to the end of today's blog. Before you leave, come join our New Private Community Group! Feel free to ask questions, share your love for food, and explore the Penang community! We will also regularly post about casual promos and latest findings. Click on the image below and hunt good food with us today!