Queensbay Mall – the largest shopping mall in Penang which located in the heart of Bayan Lepas. As a Penangites, you'll surely agree that the mall is not only for shopping but also a culinary treasure trove with a vast number of different restaurants. With so many options come to the problem of choosing the best eateries where you can spend your money. We feel you and we're here to the rescue! So here's a guide to what to eat the next time you're at Queensbay Mall, no matter what type of cuisine you're in the mood for.
Top 10 Things to Eat in Queensbay Mall Penang
1. Uncle Kin Chili Pan Mee
Uncle Kin started with a humble beginning by having a few hawker stalls scattered around the island but has since moved its operations into food courts. From Queensbay to Gurney Paragon, this franchise serves their signature Chili Pan Mee at only RM 7.50. The spicy lovers would be glad to know you can scoop as much Chili Flakes as you like at the collection counter. If you love the challenge, feel free to customize the spice level accordingly.
📍 Level 3, Queens Hall, Queensbay Mall
2. 4Fingers Crispy Chicken
If you're a lover of fried chicken, you will agree that 4Fingers delivers a tangy, delicious version. You can try out their signature 'Wingettes & Drumettes'. Which flavour? You have a choice between soy garlic or hot or mixed. Their kimchi fries or seaweed fries which come to the set are perfectly matched, the powder flavour had just the right amount of taste and it went very well with the skinny fries. You've never had crispy chicken….until you had a taste of them!
📍 Level 2, #2F-96 & 103, Queensbay Mall
A new addition to the things to eat in Queensbay Mall, Pho Vietz serves authentic Vietnamese food. The ingredients used by Pho Vietz is imported from Vietnam every fortnight. So you can rest assured knowing that every ingredient used to prepare the dish you savour here comes directly from Vietnam. From the authentic Vietnamese rice noodles to the Vietnamese snack, Pho Viet is ready to cater to all your Vietnamese food cravings.
Not to mention, their Signature Braised Pork Belly with Coconut Juice Set is a must-try. The pork belly has a tender consistency as it is braised for 3 hours and later on soaked in the signature gravy that has coconut juice added into it. We tried it and it's a thumbs up from us!
📍 2F-72/73, Queensbay Mall
4. Go Noodle House
Craving for soup noodles after all the shopping? Go Noodle House then. They have two types of soup bases, superior or spicy soup. The superior broth is to die for, thick, delicious with a hint of cooking wine. Go with the signature bursting meatball, you won't be regret. Besides that, they also serve dark sauce pan mee which is surprisingly good.
📍 Lot 3F-01(A), Level 3 Queens Street (North Zone), Queensbay Mall
5. Cho Dong Jib Korean Restaurant
Cho Dong Jib has 3 branches in Korea while the opened branch at Queensbay Mall is the brand's first overseas branch. They offer more dishes than just Korean conventional grilled meat such as Kimchi Stew, Jajangmyeon, Gimbap, Korean Pancake and various Korean dishes. If you are a cheese lover, a must-try is the Cheese Tteokbokki. Trust me, you won't be disappointed.
📍  3rd Floor North Zone (Queens Street), Queensbay Mall
6. Daseo
Cheese is the star of the show at this Korean Restaurant, Daseo. While the signature dishes here are Korean Fried Chicken and Army Stew, Shimson Stew comes with a variety of stews to choose from such as Classic, Kimchi, Tofu Vegetable, Clam, Prawn, and Seafood. The springy ramen, sliced sausages, diced kimchi and melting cheese complements the Kimchi stew. On the rim, there are flavourful pieces of chicken and Tteokbokki that you will get to swirl with Korean cheese.
If you are solely going to Daseo for fried chicken and cheese, order Korean Cheese Fried Chicken! On one half, there's a generous amount of melting Korean Cheese and on the other half, there's flavourful and juicy chicken.
📍 2F- 50/51, Queensbay Mall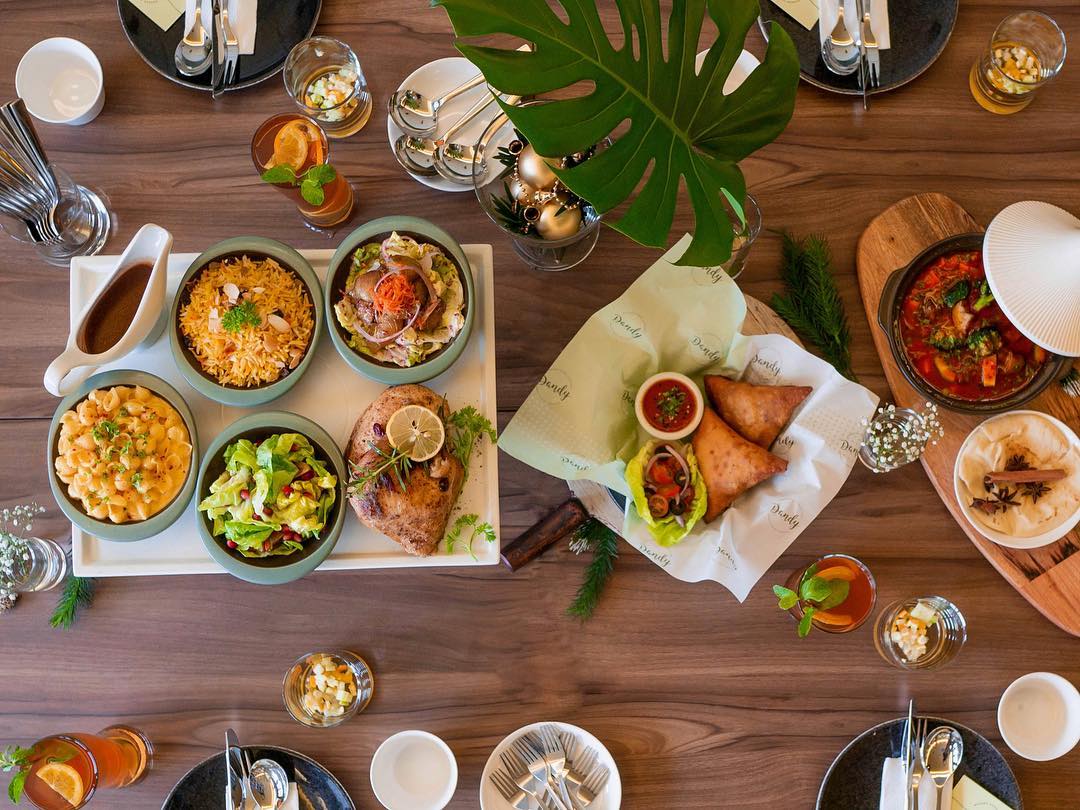 Dandy Modern Food is a contemporary place that promotes Mediterranean fare with a fusion touch in a comfortable-cozy cafe atmosphere. They have a wide selection of menu, ranging from Mediterranean dishes to an array of French pastries and desserts. The open-kitchen concept allows customers to watch how their meal is prepared. Dishes like falafel, shawarma and hummus bread are some of the must-order.  Do check them out!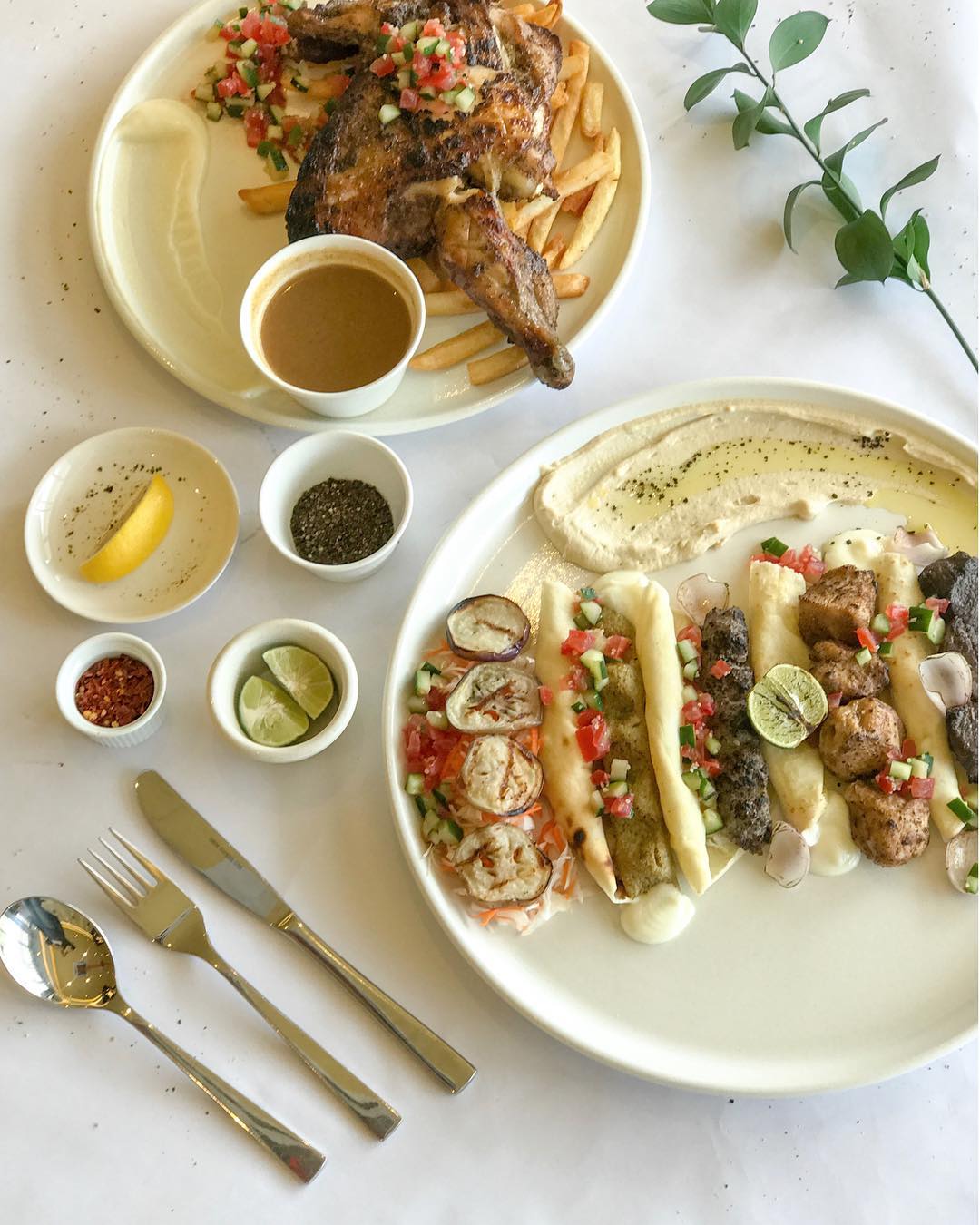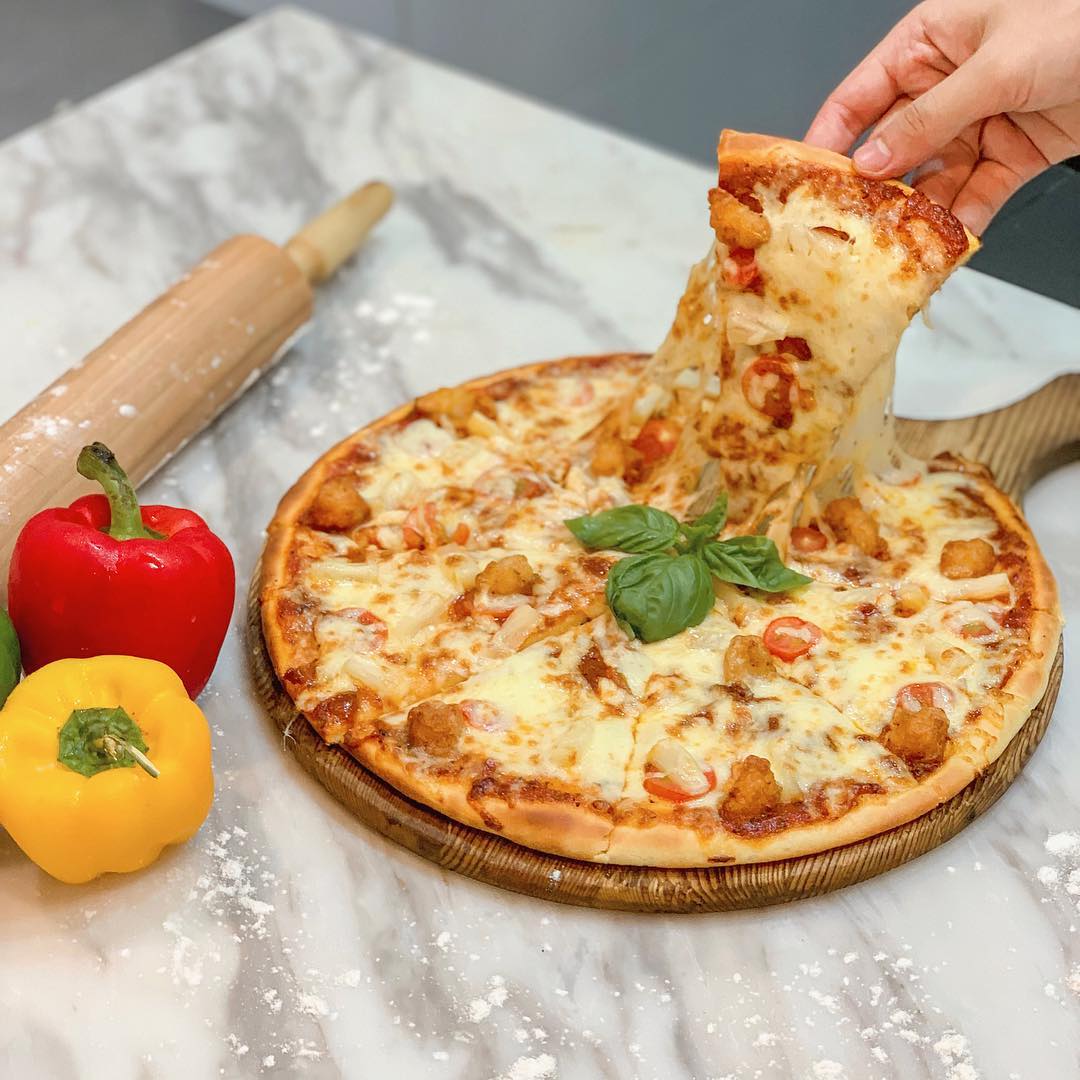 📍 GF-112,113 & 146(A), Queensbay Mall
8. Dave's Deli
Strategically located under an escalator at the lower ground floor of Queensbay Mall, Dave's Deli is always full with people regardless of what day or time. From the looks of the crowd queuing at their pay as you order counter, their popularity hasn't waned. And gladly, neither has the quality of their food. Roast Chicken with mashed potato, coleslaw and grilled vegetables, simple yet amazing.
📍 Lot LG51, Queensbay Mall
Need a good burger after all that shopping? Flip Burger is your go-to spot for comfort food. Their menu features over 15 burgers offering the highest quality of meats, fresh ingredients, savoury sauces, and rich, melted cheese. Our favourite is Furippu Katsu Baga comprises of a Panko Pork Pocket filled with juicy chicken loaf and teriyaki sauce sandwiched between two charcoal buns. So sinful, so good. One is never enough!
📍 3F-07, Queensbay Mall
10. Hoshino Coffee
A well-established restaurant in Japan, Hoshino Coffee has opened two branches in Penang. Occupying the corner lot of the ground floor at Queensbay Mall, Hoshino Coffee portrays a sense of luxury and style with the leather sofa and chandelier. Since its opening, they are taking over Penang by storm! The menu was simple but features all the highlights of the cafe, you truly can't go wrong. Not to mention, their Souffle with fluffy-soft and eggy texture is just perfect.
📍 Lot GF 01 B, Queensbay Mall
Read Also:
Queensbay Mall: 10 Food To Try
We've reached an end to this list of Top 10 Things to Eat in Queensbay Mall. If there are any that we happen to miss out, do comment to let us know. In the meantime, don't forget to try out these places that we've specially curated for all you foodies. Till next time, Foodies!
Share this with your friends and family!
–
We would like to invite you to join our New Private Community Group! Here you are free to ask questions, share your love for food, and explore the Penang community! We will also regularly post about casual promos and latest findings.
Click on the button below and hunt good food with us today!