Penangites would agree that Lok Lok is one of the must-eat street foods in Penang. It is also the best food to enjoy with your family and friends without the need to crack your brain to adjust to everyone.
So if you see signs of fresh lok lok selling with a crowd, do not hesitate to stop by, put it in the boiler, choose your favourite sauce and get as much as you want! Expect freshly skewed cockles, fish ball, sausage, jellyfish, vegetables, and much more under one roof! Grab one and you'll go for another for sure!
10 Best Lok Lok Spots In Penang To Satisfy Your Cravings
1. Padang Brown Hawker
Food court for everyone, you can get almost every local delicacies in Padang Brown Food Court. Among all the others, Padang Brown's lok lok is a must-try! The highlight here is definitely their home blended chili padi sauce which is perfectly matched with everything. If you're not a fan of something spicy, go for their satay sauce with is nutty and unique in its own way, so good and you won't be regret.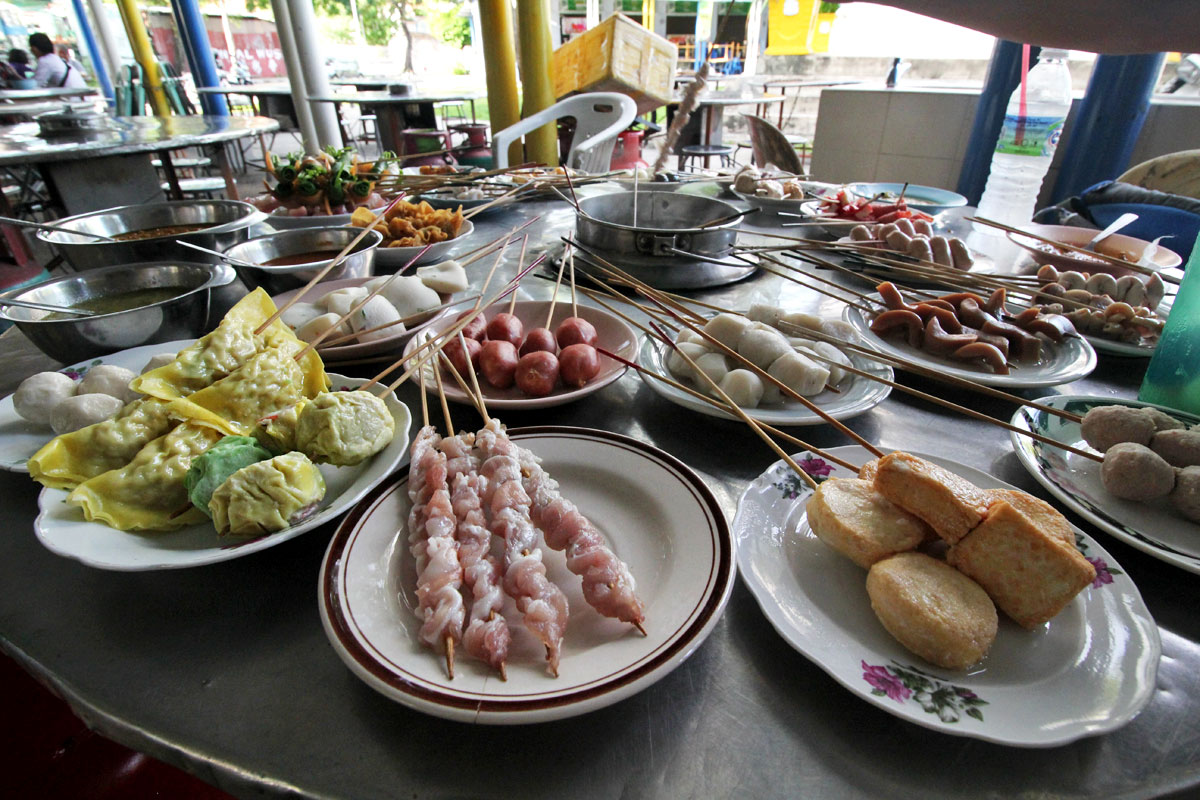 📍Jalan Johor, Tapak No. 9, 10400 Georgetown, Penang
🕒12:00 PM – 5:30 PM
2. Peng Hwa Lok Lok @ Pulau Tikus 
If you ask a Penangite where's the best lok lok in Penang, no doubt they will recommend you the famous Peng Hwa Lok Lok at Pulau Tikus Night Hawker. Over more than thirty types of lok lok available for selection, this place offers five different kinds of mouth-watering dipping gravy for you to try.
These ingredients were readily served on their specially customized table which allows you to sit down and enjoy your lok lok. Don't worry about dining alone, make a friend today!
📍Jalan Burma, Pulau Tikus, 10350 George Town, Pulau Pinang
🕒6:00 PM – 11:30 PM (Closed on Wednesday)
3. Pantai Lok Lok @ Chai Leng Park
Pantai Lok Lok is a well-known Lok Lok stall at Wai Sek Kai, Chai Leng Park. You will be spoiled for choice here as they offer more than 30 types of different ingredients and eight different sauces. You can take whatever you want and choose whether you want to fry it or cook it with water.
Savour your favourite lok lok with their homemade sauce such as satay sauce, laksa sauce, sambal udang, spring onion sauce, sweet sauce, chilli sauce and tom yam sauce will surely make you crave for more! Do check them out!
📍Jalan Kurau 5, Taman Chai Leng, 13700 Butterworth, Pulau Pinang
🕒5:00 PM – 12:00 AM (Closed on Monday)
4. Lok Lok @ Carnavon Street
If you haven't tried the Lok Lok at Carnavon Street, it's about time you do it right here at the colourful stall displaying varieties of raw stuff on skewers ready to hit the boiling pot. The tip here is to gather your favourite sticks, pour in all the sauce with the peanut sauce a little bit extra and get on fire!
Fresh cockles, pork intestines, pork liver, sausages, fish balls, squids, shrimps, vegetables, sausages and even some cooked items such as deep-fried wontons and deeply fried beancurd sheets, the choices go even further!
📍16, Lebuh Carnarvon, George Town, 10450 George Town, Pulau Pinang
🕒6:00 PM until late night
5. Air Itam Lok Lok @ Keat Seng Restaurant (Zhong Nam)
While not exactly located right in the restaurant, you can find the lok-lok towards the end of the hawker stretch. It's pretty obvious and always crowded with people, so the chance of missing this one out is almost impossible. They serve a wide array of lok lok ingredients for you to enjoy. You name it, they have it! No doubt this lok-lok spot is one of the best things to eat in Air Itam especially during the night.
📍10J, Mk. 16, Jalan Air Itam, Taman Ria, 11500 Ayer Itam, Pulau Pinang.
🕒Evening till 12:00 AM
6. Lok Lok @ Farlim Night Market
From the goods to the food, Farlim Night Market has received their high reputation from locals. Don't forget to try the locals favourite Lok-Lok that will make you craving for more. The assortment of skewers displayed on the lok-lok truck is simply irresistible. Take a few skewers which catch your eyes and dip it into the bowl of boiling water, then match it with your favourite sauce for the ultimate enjoyment!
📍27-75, Medan Angsana, Bandar Baru Ayer Itam, 11500 Ayer Itam, Pulau Pinang
🕒5:00 PM – 11:00 PM (Only Wednesday)
7. Lok Lok Supreme Restaurant
This lok lok restaurant is not the typical roadside lok lok you have encountered. Set in the heart of George Town, Lok Lok Supreme is air-conditioned and you can end your desires for savouring street food in a more comfortable way. Each one of the lok lok's is placed in a bowl and sit on the conveyor belt giving you a sushi-like experience eating lok lok. The food here is amazing and most certainly a great deal. Should you visit it? Yes, without a doubt!
Photo: skewer_supreme
📍27, Jalan Sri Bahari George Town, Malaysia
🕒6:00 PM – 2:00 AM (Mon, Tues, Wed, Thurs, Sun) / 6:00 PM – 3:00 AM (Fri & Sat)
8. Jetty Lok Lok @ Kimberley Street
From fishballs to meatballs to vegetables, you name it – they have it! After selecting what you want, proceed to dip them into the boiling water. Wait for about a minute or two, then grab your sticks! On the table are several dips like satay, prawn paste and chilli sauces. You can mix them up to make your own blend. Now, you're ready to dig in!
📍Lebuh Kimberley, George Town, 10100 George Town, Pulau Pinang
🕒5:00 PM – 11:00 PM
9. SS Penang Lok Lok
SS Penang Lok Lok serves up to 50 different types of skewers and different cooking methods – boiled, deep fried and bbq. You can combine and make it your own as they have a wide variety of sauces for you to choose from: tomyam sauce, mayonnaise sauce, sweet sauce, spicy sauce, Thai sauce and all-time favourite satay sauce.
What sets it different from the rest is you can even have your favourite lok lok served in deep-fried version, sounds cool right! Lastly, don't forget to leave some tummy space to dig into some desserts such as ice kacang and deep fried ice-cream after your meal.
📍209, Lebuh Pantai, George Town, 10300 George Town, Pulau Pinang
🕒8:00 PM – 12:00 AM (Closed on Monday and Tuesday)
10. Gurney Drive Hawker Centre
Set at Gurney Drive, home to one of Penang's most popular tourist destinations, the hawker centre serves various kinds of local Penang food. But which one is the best? lok lok for sure! It can be added to other dishes as a snack or used as a starter before other food arrives. You'll find everything here from meat and seafood to vegetables, Chinese dumplings, and quail eggs on the skewers. Also, you get a choice of either sweet, peanut, or spicy sauce.
📍172, Solok Gurney 1, Pulau Tikus, 10250 Jelutong, Pulau Pinang
🕒4:30 PM – 11:00 PM (Closed on Tuesday)
Read also: 10 Must-Visit Day Market In Penang To Eat Like A Local
List: 10 Places That Will Absolutely Satisfy Your Lok Lok Cravings
Finally, we've come to an end! We hope today's 10 Best Lok Lok Spots In Penang To Satisfy Your Cravings treated you well. So, what's keeping you now? Gather your loved ones and enjoy a satisfying lok lok date at any one of these places! Till next time, bye!
–
We would like to invite you to join our New Private Community Group! Here you are free to ask questions, share your love for food, and explore the Penang community! We will also regularly post about casual promos and latest findings.
Click on the button below and hunt good food with us today!